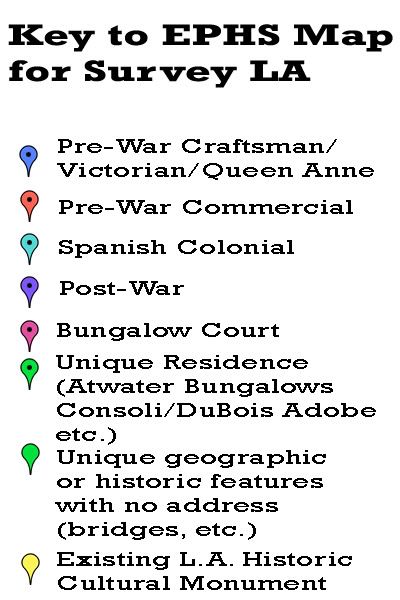 View EPHS & SurveyLA in a larger map
This page is for co-ordinating the Echo Park Historical Society's attempt to document the neighborhood in advance of the citywide historic preservation effort SurveyLA. 
The information gathered during this process will be provided to SurveyLA's teams of architectural historians who will be going house to house in Echo Park somewhere in the 3rd phase of Year 2.   (They are currently in the 3rd phase of Year 1.)   
The importance of this effort towards preserving Echo Park's Historic Past and the work done by the Echo Park Historical Society over the last 15 years cannot be stressed enough, as the data generated by the SurveyLA effort will inform the City Planning Department not only what areas of the city are considered historic and what ripe for development, but also, and more importantly, what neighborhoods will rally to protect their history. 
This page will provide links to information within the primary SurveyLA program, as well as information and tools designed specifically for the Echo Park Historical Society and anyone interested in representing Echo Park in the citywide SurveyLA program.  
email valleyspringlane (at) gmail.com with questions, comments, etc.
EPHS TOOLS AND INFORMATION
"Information regards the Key, access to the map, editing a map in Google Maps, etc."