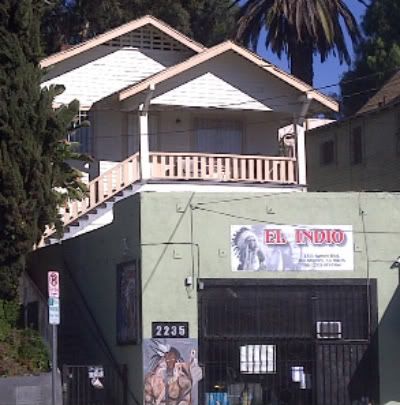 This unassuming Craftsman perched above Sunset Blvd between Mohawk St. and Waterloo has welcomed travelers east to Echo Park since 1910.  At some point yesterday, the Department of City Planning was to decide whether this house, the green house next to it, El Botanica Indio and the rest of the brick storefronts and the former community garden, will be replaced by a five story condominium complex, or, if the Developer has his way, a SIX story condo complex.   The Sunset "Flats" development. 
This story is about the History that we are about to lose, whether it's five stories, or six.  
The house in front, 2231 Sunset  Blvd, was built in 1910 for an immigrant from Hungary, Stefan Zacsek.  An ornamental iron worker, or "Art Metal," as his profession is listed in the 1915 Los Angeles City Directory, he founded the "Eastern Art Metal and Fixtures Co." on Main St.  in downtown Los Angeles in 1906.  Prior to the completion of the front house in 1910, Mr. Zacsek, his wife Theresa, and his daughter Anna, most likely lived in one of these two back houses that form a sort of shingled bungalow court.  The age of these two buildings is uncertain, but buildings with similar footprints and positioning appear on both the Sanborn Fire Insurance maps of 1906, and 1950, suggesting a building date pre-1906.